Pursue the Passion - Denver Jobs: Overview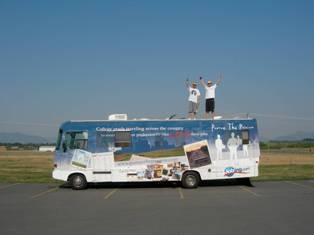 Pursue the Passion creates a better society and marketplace by helping people find passion in work.
Pursue the Passion started as a group of students who had no idea what to do with their lives after graduation. The solution to their dilemma was to hit the road and explore different career options by interviewing people about their career paths. They found a sponsor in Jobing.com, bought an RV, and started exploring the possibilities. Sixteen thousand miles and hundreds of interviews later, their concept has turned into a flagship program of the Jobing Foundation.
What We Do
There are two things that we focus on:
1. Career Videos. Once a week we release a new career video profiling a person and the job they work. The goal of these videos is to expose students to career possibilities. Every Monday morning thousands of teachers receive the video through our newsletter and show their students the clip. We have conducted over three hundred interviews. For a complete list, visit www.pursuethepassion.com.
Here's a sample of the videos we produce:
2. Keynote Speeches. Brett Farmiloe and Zach Hubbell are nationally known speakers who frequently keynote presentations to high school and college students, educators, business professionals, and high performing organizations. If you are interested in having Pursue the Passion speak at your conference, classroom, or company, please contact Brett Farmiloe at brett@pursuethepassion.com.
Here is a video of Brett and Zach delivering their message to 600 attendees at a state SHRM conference:
Other Places to Connect With Pursue the Passion:
Their website: www.pursuethepassion.com
Their daily blog: www.pursuethepassion.com/journey
Twitter: www.twitter.com/thatpassionguy
Linkedin: Brett Farmiloe, Zach Hubbell
Facebook: Brett Farmiloe, Zach Hubbell, Pursue the Passion Group
Youtube: www.youtube.com/careerinterviews
And a sneak peek at the book and documentary trailer:
X
Send Message to Pursue the Passion - Denver
Your email has been sent!